source:-(Google.com.pk)
Abdul Razzaq Biography
Name: Abdul Razzaq : عبد الرزاق
Date Of Birth: 2 December 1979 (age 33)
Lahore, Punjab, Pakistan
Nickname:
Bang Bang Razzaq
Height:
5 ft 11.5 in (1.82 m)
Batting style:
Right hand bat
Bowling style:
Right arm fast-medium
Role:
All-rounder (bowler and batsman)
Abdul Razzaq : عبد الرزاق, born 2 December 1979 is a Pakistani right arm fast-medium bowler and a right-handed batsman, who is currently representing the Pakistan cricket team. He emerged in international cricket in 1996, when he made his One Day International debut against Zimbabwe at his home ground in Gaddafi Stadium in Pakistan, a month before his seventeenth birthday. He has played over 200 ODIs and nearly 50 Tests for Pakistan.
Originally a fast bowler, Razzaq's batting has improved throughout the years and he has been recognized as an all-rounder. He is best known in cricket as an aggressive batsman and has the ability to score quick runs. This versatility has given him the talent of batting and bowling at every position on the team. He is also one of Pakistan's most effective hitters of the cricket ball. He also made 47 runs off 11 balls vs england (2005) He stayed not out, but was unable to make the worlds fastest half century, the current record is held by Sanath Jasuriya which he made off 18 balls.
Despite his qualities, he has been criticized by some, for his batting techniques in Test matches.[who?] Another being that he averages almost 37 with the ball. However he has excelled in the One Day International arena, with several excellent performances. He is also an accurate fast bowler who has been successful against the batting opposition. Razzaq claims to have learned many things while playing under former captain Wasim Akram during the 1990s and early 2000. One of the things that he learned, was his quick-arm bowling action, which makes it hard for the batsman to predict at what speed the ball is going to be delivered.
Razzaq made his One Day International debut in November 1996, against Zimbabwe, but had to wait just over three years to make his Test cricket debut for Pakistan, eventually doing so against Australia in Brisbane on November 1999. In the 1999-2000 Carlton and United Series, he rose to fame and was named man of the series for his all round performance. During a match in Hobart against India, Razzaq scored a half century and took five wickets. In the same tournament, he hit former Australian fast bowler, Glenn McGrath for 5 fours, which totaled to 20 runs in one over.
Razzaq became a regular member of his national side during the 1999 world cup held in England. During the event, he got the attention of selectors as he performed well both with the ball and bat. His brilliant performance with the bat came in the group match against Australia, where he went on to score his first half century making 60 runs in a long and stable partnership with Inzamam-ul-Haq, which helped Pakistan reach a defendable target of 275. Pakistan went on to win the match by ten runs and as a result qualified for the Super Six stage. With the ball, he made a brilliant performance against the tough West Indian cricket team by taking three wickets for 32 runs having three maiden overs, which proved decisive for Pakistan at Bristol.
Razzaq's other impressive performances came during the Carlton & United Series at Australia in a tri-nation tournament involving Pakistan, Australia and India in 2000. Razzaq achieved the man of the series award for his best all round performances, especially in a pre-finals match against India, where he scored 70 not out with the bat and took 5 wickets for 43 runs, thus becoming the fifth all-rounder to have scored a half century and take five wickets in a match; the other four players being Sachin Tendulkar, Kapil Dev, Ian Botham and Sourav Ganguly; Shahid Afridi subsequently achieved the feat.
In the first match of the series against Australia, he took 4 wickets and played an important role for Pakistan helping them to successfully defend a very low target of just 187 runs at Brisbane. In the third match of the series, Razzaq came into prominence after hitting five consecutive boundaries in the fifth over of Australian pacer Glenn McGrath. Eventually Pakistan was defeated in the finals by Australia but Razzaq was named player of the series for his all-round performance.
Abdul Razzaq
Abdul Razzaq
Abdul Razzaq
Abdul Razzaq
Abdul Razzaq
Abdul Razzaq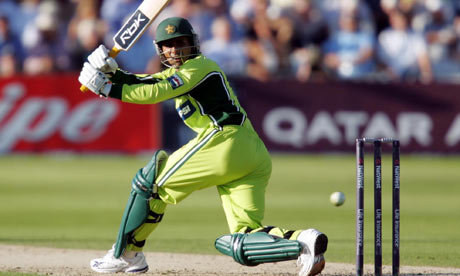 Abdul Razzaq
Abdul Razzaq
Abdul Razzaq
Abdul Razzaq
Abdul Razzaq
Abdul Razzaq
Abdul Razzaq